This town plays no significance to what any of us may know or think of France. It's so small that even French people—at least those whom I spoke to—shook their head. "Where is that? Ambronay?" The truth is that it's located in Ain, seemingly halfway between Switzerland on one side and say, Mâcon, to the west.
Yet I knew the name well. As it turns out, the small town has allowed its name to be used as a music label. And the abbey in town has been a fixture each fall for a music festival of baroque music, 2019 being its fortieth year. Music festivals bring together a lot of top artists and fans together in a short span of time, in one location, in a series of concerts. And this year, I got to go.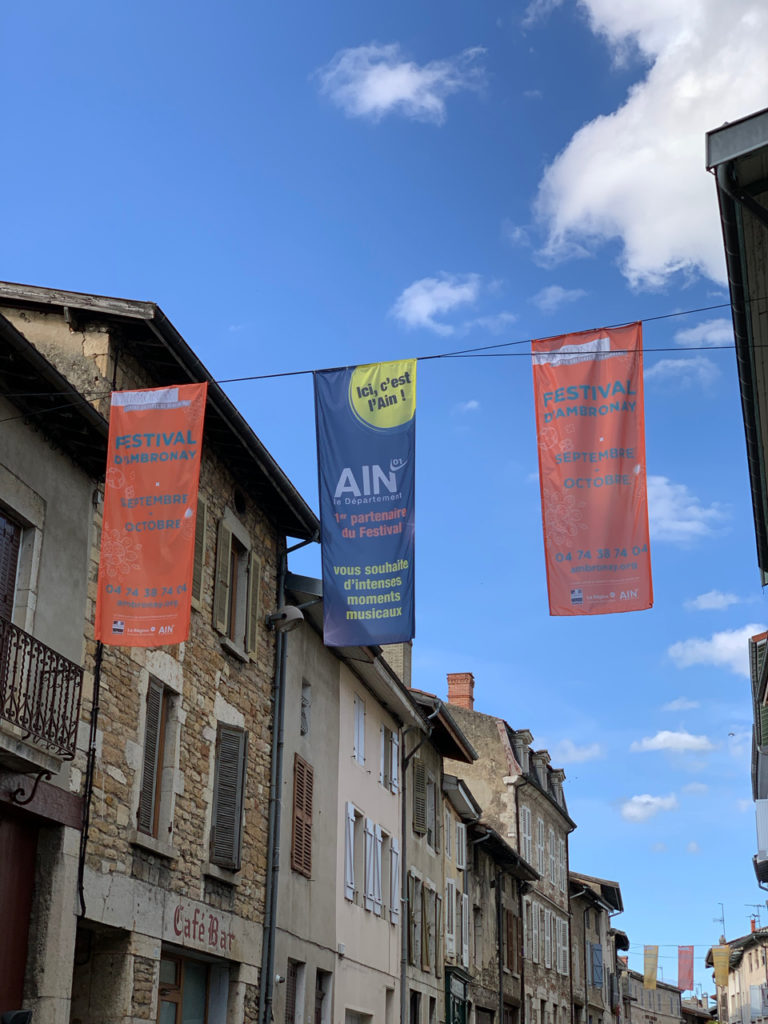 Officially called the Festival d'Ambronay, it features concerts on the weekends, roughly just longer than a month, from September to October. I'd arrived in France via the Charles De Gaulle airport in Paris. Eventually a car rental from Dijon took me past Bourg-en-Bresse (where I stopped for their famous chicken) before arriving in Ambronay itself. I'd purchased two tickets at home, but found they didn't ship them to the U.S. They were thankfully waiting for me when I arrived, amid the bookstore and CD shop they'd erected inside the former abbey's walls.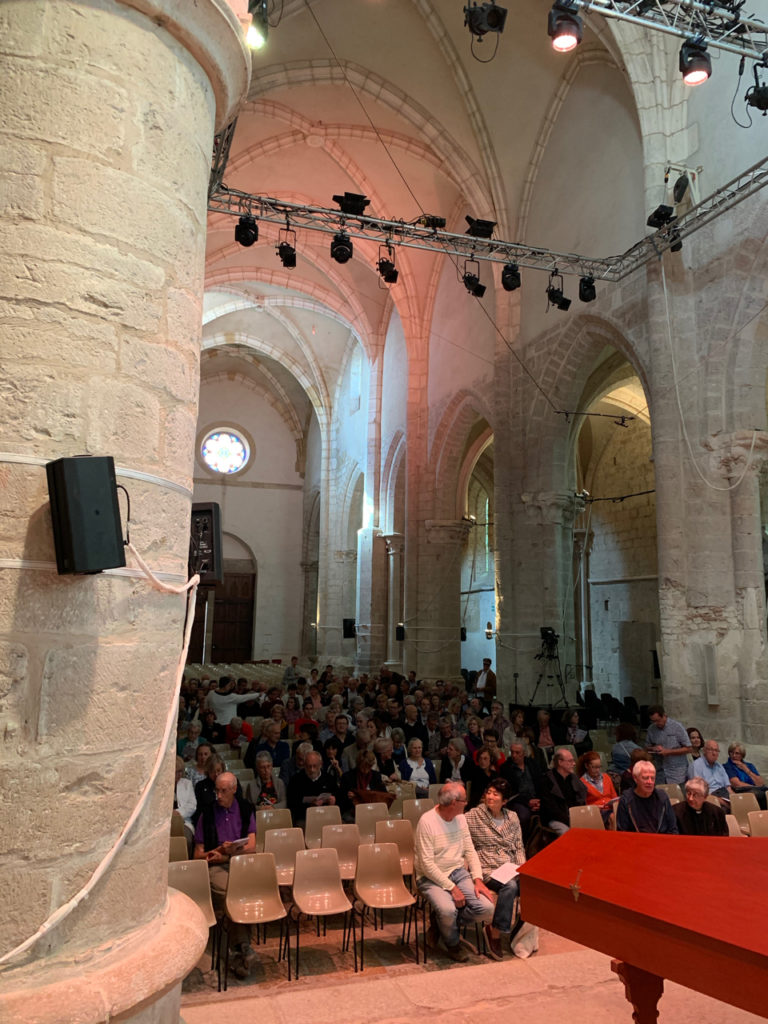 The abbey itself wasn't exactly new to me. I'd seen so many concerts featured at this festival across past years that I felt I'd know the space. But as tall as the space appears in the picture above, the depth of the building, it's length from back to front, wasn't so intimidating. I found its overall size to be quite reasonable compared to what I'd imagined it would look like, seeing it on video. The first recital would be the one I was most anxious to see, an Italian violin recital by Enrico Onofri and the Imaginarium Ensemble.
Before I discuss the music, where you'd stay and where you'd eat became a concern. It was obvious that this music festival was low key and I imagine many of the audience members did not travel far to enjoy the festival. We ended up staying about an hour away in the small town of Vonnas, known as "Village Blanc," after the famous three-star Michelin Chef who has taken over the town with shops, restaurants, and hotels. An e-mail from the festival officials alerted us to the prospect of a catered dinner. We bought-in, after having to leave a message about our intention to dine there several nights in advance. The meal was not superb, but it was many times more enjoyable than the McDonald's meal I'd endured several years before, attending a concert in Lyon (yes, they have a baroque series of concerts, too).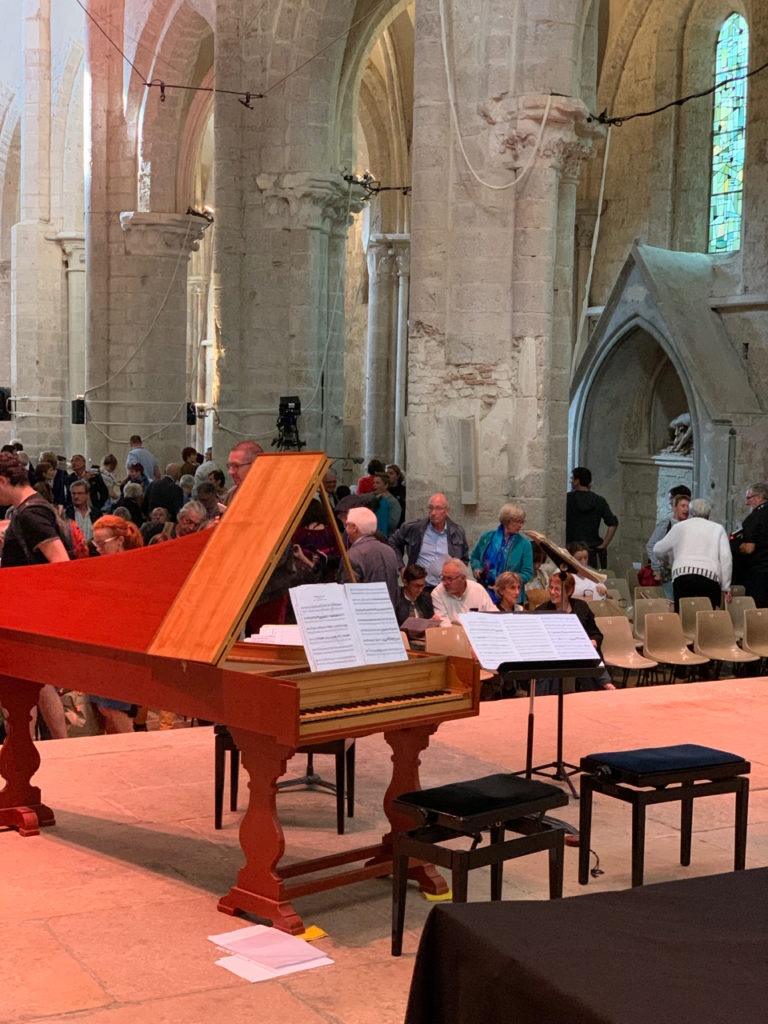 The concert by Onofri included a continuo group of cello, harpsichord, and lute. The opening piece was an early one for violin alone, and didn't use continuo. I immediately realized why the abbey had become a noted musical venue: the acoustics were very favorable. Onfori's violin was amplified considerably against the stone walls and ceiling of the space. My seat off to the side was ideal, as the violinist faced us the entire time, seemingly only a few steps away from where we sat. The repertoire wasn't anything new for Onofri, who already has several CD releases featuring this genre of music; the concert featured pieces by composers such as Vivaldi, Bonporti, Veracini (representing the late baroque), but also Corelli, and a handful of masters that came before him.
This concert was special to me in part because I've counted a recital by Onfori and Imaginarium's harpsichordist, Mr. Doni, as one of the top musical performances of my life. It took place in the mid-1990s at the Cleveland Museum of Art, and the concert featured early Italian violin sonatas. It was my first opportunity to see Onofri play. Everything about his style spoke to me; he seemed to bring this ancient music to life in a way other musicians seemed to have missed. Last week he still uses a scarf tied to the endpin of his instrument, but no longer ties it around his neck.
Having the opportunity after the concert to attend his talk and hear him answer questions was cool. I was the only one asking questions in English. I'm hoping I got most of what was said. (He has a good command of both French and English, in addition to his native Italian.)
He was kind enough to be photographed with me.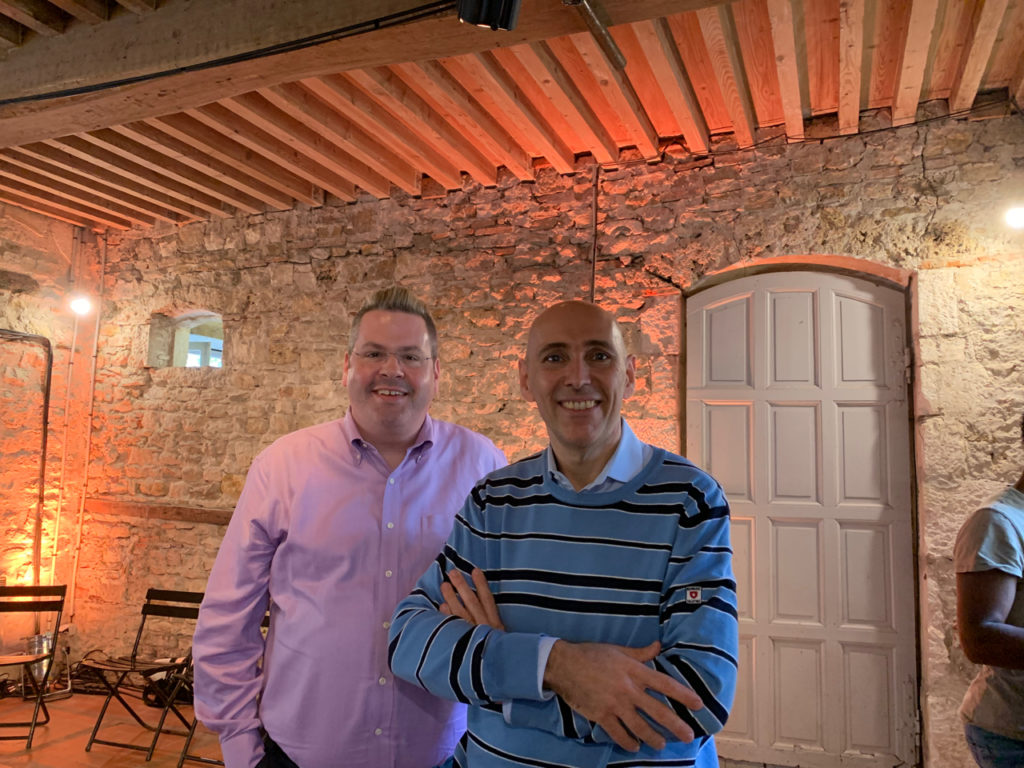 After dinner, we attended a larger event, the performance by Christophe Rousset and Les Talens Lyriques of Handel's opera, Julius Cesar. I was fortunate to hear Rousset in his other major role as a harpsichord soloist when he came to Washington, D.C. several years ago. The Handel performance was for us wasn't ideal, as we had seats behind the orchestra, but we had the aid of a HD monitor tied to one of the abbey's large columns, so we could get the front-row perspective. France 3 did an excellent job of moving around the orchestra, highlighting the singers and instrumental soloists. The sound, again, was amazing.
All in all, it was an incredible experience. Beyond the music, the experience was significant because it was a journey. I'd read about, heard, and listened to recordings that came about from this music festival for years. To finally attend was a type of personal pilgrimage, to join musicians and music lovers who also understand the power of this repertoire of music.
Ambronay won't be on most American tourist's stops if they travel to France, but I found both the journey and the destination to be first rate. Highly recommended.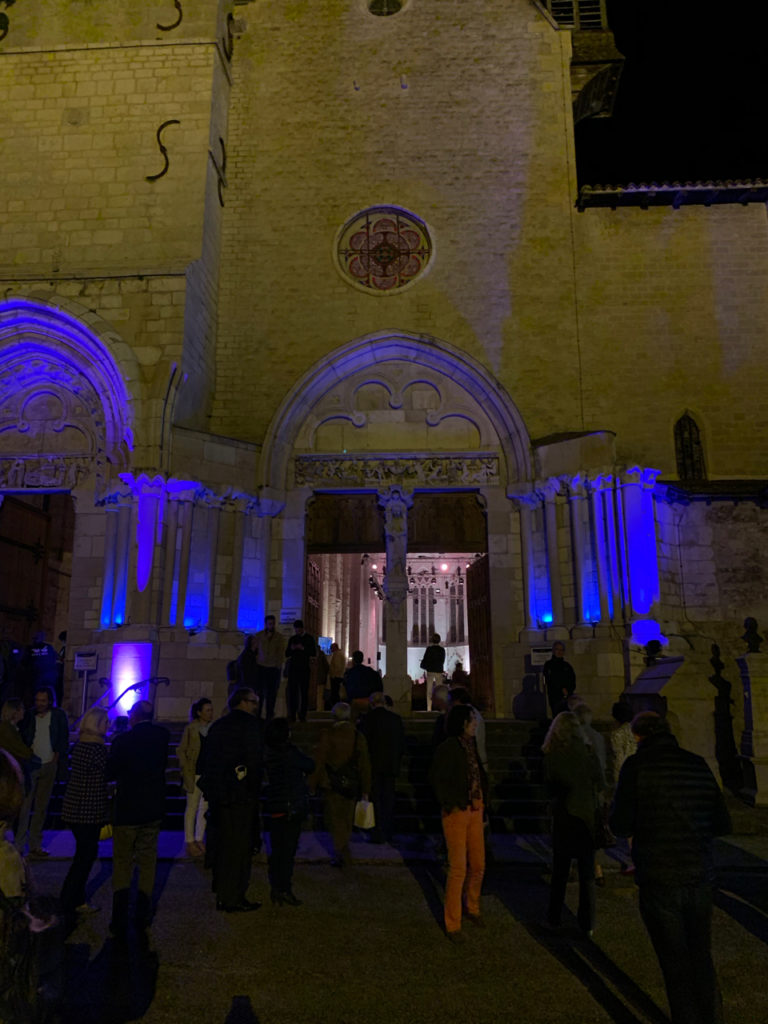 Tips
We rented a car from Dijon, which is where we stayed before the concert date. Car rentals tend to be easy at larger train stations and airports in France. We arranged to drop off the car at the Lyon Airport, bypassing the traffic of the city of Lyon.
The car was modern and featured Apple Car Play. I used Google Maps the whole time to navigate from the efficient highways (autoroutes) into, and through, small towns. As an American, I'd recommend reviewing some European road signs before you travel.
Parking in Ambronay wasn't a problem; the festival folk had identified areas to park near the abbey.
Food and snacks are available at the abbey. If you plan in advance, there is a one-star Michelin restaurant in town, right in front of the abbey. Be prepared to fetch your seat ahead of the announced time; they start their concerts on the dot, just like the French TGV trains.
It may be possible to train your way to Ambronay; we did not investigate that. For healthy, young people, the walk around town posed no challenges. We did not encounter any taxis in town, therefore, having a car made things simpler.
The festival will try and collect a nine Euro fee for sending you the tickets; their system assumes you'll want them sent. I chose this but then found out that they wouldn't ship the tickets across the ocean. Thankfully they refunded my shipping fee later.
Be sure to book tickets in advance to get better seats.